Eileen Chew, Clinical Director
Academic
Eileen is among the few Board Certified Behavioral Analysts (BCBA) in Singapore. She earned her M.S in Counseling Psychology from Northeastern University (Boston, Massachusetts) in 2003. As part of her graduate program, she participated in an internship program at the New England Center for Children (NECC). This is a renowned behavior analytic day school and residential program for children with Autism Spectrum Disorders (ASD). Eileen worked directly with children in the day preschool and residential program, providing both ABA and psychological services.
Working Experience
Upon graduation, Eileen spent 3 years at the Institute of Professional Practice (IPP) in Connecticut. This was a professional level foster care placement agency. She worked closely with children and youth, between the ages of 2 months and 16 years old, who were medically fragile or had significant behavioral challenges. Her work included intensive in-home support, parent training, school consultations and treatment planning. While at IPP, she pursued her coursework in Applied Behavioral Analysis through the University of North Texas' distance learning program. In September of 2007, Eileen moved to the Seattle area and joined Northwest Behavioral Associates (NBA). This was a non-profit agency providing ABA therapy services to children with ASD. At NBA, Eileen worked directly with children on her caseload, providing 1:1 therapy, developed individualised programs, prepared program materials and treatment plans, consulted with local school districts, participated in team meetings, oversaw home programs and supervised home tutors. She returned to Singapore in February of 2013. She has enjoyed her ABA work as a BCBA with children with ASD tremendously.
Her thoughts
"Because it is the little things that count. Things that others take for granted. Things that come so naturally to other children. These are what kids with ASD often struggle with. Hence when baby steps are achieved, it's celebrated. You see growth and progress from a completely different perspective, and learn to appreciate the little things so much more." From teaching basic foundation skills to more complex life skills, Eileen brings with her a wealth of knowledge. She hopes that quality services available to children with ASD overseas may also be afforded to affected children in Singapore.
"I feared life was going to be chapter of tears and fears. Eileen helped rewrite that to success, hope and laughter." Anxious dejected parent who has grown stronger today and is braver about the future. 
Eileen Tan, Senior Behaviour Therapist
Eileen holds a Bachelor's Degree in Psychology from James Cook University, Australia and a Master's Degree in Applied Behavior Analysis (ABA) from Bangor University, Wales. She received her BCBA certification through the BACB in July 2017. Eileen has been working with children and adults with Autism and other developmental delays for the past 7.5 years. She has worked in various settings, including the clients' homes, early intervention centres, adult centres, preschools and playgroups. Her work involves direct intervention with clients, shadowing children at school, training instructors and parents on the principles of ABA and its practical application. Eileen joined Lazarus Centre as a Behavior Therapist in July of 2015. Eileen's ultimate goals is to make quality ABA services more available to a greater population as well as to spread this practical skill to parents, guardians and teachers to help promote a more conducive environment to better manage their children and stimulate learning.
"The child refused to get off the father. She tried a lure. Another one. Once more. Again. Again. Again. Again. Again. Finally, the child was persuaded to let go and play with her. Blessed with patience and love, Eileen, never gives up on a child." Daddy's first time with child and therapist.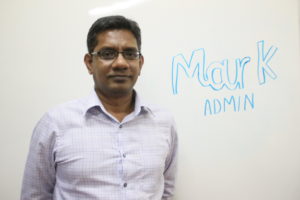 Mark Kumar
Mark has a Bachelors degree in History and a Masters in Finance from National University of Singapore, aside from a Chartered Finance Analyst certification. Mark is a Director of Lazarus Centre and covers administration. A parent of a child on the spectrum, he fully appreciates the challenges mums and dads have to undergo in dealing with ASD. This is also why he is ready to take calls anytime he is awake (weekends, after 5pm etc) as he knows working parents sometimes just don't  have the luxury of time. Mark is ready to act as "buddy" for parents who need to share their burdens with someone else.